Worlds - History Simulator
This past weekend was the last one I planned to spend bug fixing the second alpha of 0.3.4 and this time around I focused on fixing small UI issues that often get forgotten while fixing the big issues that crash the game. There's always going to be game crashing issues, so it's good to take a break from those to focus on the small things every now and then.
Over the past few weeks, one of the alpha testers decided to go the extra mile and actually implemented a small new feature for the game, Autosaving: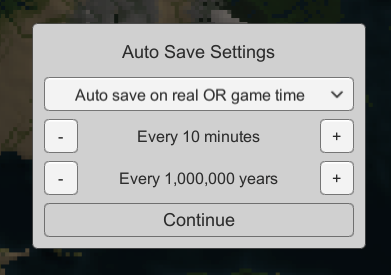 This neat dialog will allow you to enable autosaves and also configure how frequently it occurs (either in game time and/or real time).
I took the opportunity this weekend to integrate the feature into the game (and add the contributor to the credits). So expect this to appear in the public version of 0.3.4. This will help showcase the opportunities that open source projects bring. If you are interested in taking a look at the code and contribute to it, please stop by the Github page!

With this I mark the end of alpha 2. I will stop publishing alpha builds to testers until the start of alpha 3. That way I can completely focus on working on tribal aggression, which is the second to last feature planed for 0.3.4. Thanks to all who participated and contributed with bugs reports during the alpha phase!
Get Worlds - History Simulator